The Volvo brand has always been synonymous with safety and reliability, but with the new 2017 Volvo S90, you can expect sophisticated luxury too.
In fact, Volvo themselves refer to this model as: "The executive sedan, redefined."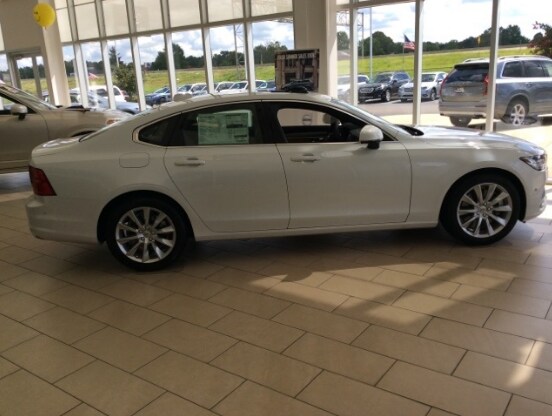 This new offering combines Volvo's trademark safety features with latest technologies and a sleek, clean exterior design to rival some of the best luxury sedans on the market.
2017 Volvo S90 near Hattiesburg is a replacement for Volvo's flagship sedan, the S80. It follows hot on the heels of the best-selling XC90, with which it shares 70 percent of their parts thanks to Volvo's new Scalable Product Architecture.
Let's take a look at some of the features that make this car so spectacular:
Packed with safety technology
True to tradition, Volvo's latest offering is packed with intuitive technology designed to help you navigate highways and byways safely.
Some of the gizmos that stand out most in the 2017 Volvo S90 are its 360-Degree Surround View Camera, Pilot Assist II and Volvo's City Safety Warning Settings.
Although fairly common in modern vehicles, the S90's 360-degree camera option comes with a nine-inch screen on the center display. This gives you a perfect bird's eye view of the car and the area around it when maneuvering at low speed.
This works especially well when combined with Volvo's park assist function, which uses sonar sensors to warn you when you're too close to something.
The other option is to let the car do the work for you. The sensors can determine the size of the space you want to park in and take over the steering to guide you into your parking spot.
A semi-autonomous system
With Volvo's Pilot Assist technology, the S90 just about drives itself.
The semi-autonomous system is standard on all S90s and helps drivers maintain a safe following distance by taking responsibility for braking.
It'll also monitor lane markings to keep you aligned and warn you about possible collisions. The system even takes over braking if necessary.
This warning works for stationary vehicles, cyclists, pedestrians and large animals. You can set the alarm to go off sooner or later and how many times you'll hear it.
The Pilot Assist II features adaptive cruise control with the nifty addition of automatically speeding up after you hit the turn signal to pass another car.
You won't have to worry about accidental speeding tickets though. The system stores the location of speed cameras.
One other nifty trick is the car's active high-beam function. This automatically switches between low and high beam, in reaction to oncoming vehicles.
Drivers are still in control
If all this sounds daunting, it's good to note that the S90 isn't completely autonomous yet. It definitely requires a driver to be in control and won't let you take your hands off the steering wheel for more than a couple of seconds.
Of course, the S90 also comes with all the usual safety features you'd expect from a luxury sedan including stability control, traction control, lane departure warning and even a knee airbag, to name a few.
One interesting extra is the front seats, which are designed to reduce the risk of back injury in the event of a collision or the car leaving the road.
More cool tech features of the 2017 Volvo S90
Besides its impressive high-tech safety features, this new Volvo also boasts some pretty cool extras in the form of its infotainment system.
Sensus Connect will make sure you stay connected no matter where your journey takes you with USB connectors, bluetooth connectivity, and broadband technology.
A touch screen nine-inch display with quick toggles between your most used features keeps all the S90's gadgets at your fingertips.
The new Sensus Connect
While Sensus Connect was featured in previous Volvo models, this new version also comes with a premium Bowers & Wilkins sound system.
The audio system sports an eye-catching aluminum design, air-ventilated subwoofer integrated into the car's body and a tweeter on the dashboard.
Sensus Navigation, Volvo's onboard navigation system is voice activated and easy to use. The car company promises to minimize distractions so their new sedan also has a head-up display.
This means all the important information you need is at eye level, just behind the steering wheel.
Quirky extras
Should you need to use any appliance, like say a laptop, you can simply plug it into one of the 2017 Volvo S90's 12-volt power outlets in either the front or back seats.
Apple fans will be chuffed to hear about the S90's Apple CarPlay, which easily connects your iPhone to the center display and brings all the usual Apple services into your car.
And if you suffer from allergies? Volvo's covered that too with their CleanZone air conditioning and air quality system designed to keep allergens and pollutants out of your car.
Albeit less noteworthy, other cool tech features include keyless start, remote engine star and a trip computer.
Swiss efficiency
If you're looking for a luxury sedan that's fuel efficient as well, look no further.
When putting 2017 Volvo S90's T5 and T6 models to the test you'll find they both outperform many of the other car manufacturer's luxury sedans in the same category, in terms of fuel efficiency.
In fact, when testing both models on the highway, they do as well as you'd expect much smaller cars to do.
If you're looking for specifics, the 2017 Volvo S90 gets about 26 mpg for city driving and 33 mpg on the highway.
In terms of carbon emissions, you're looking at 0.77 lb/mile.
2017 Volvo S90 specs
So you've read about the frills, but what's going on under the hood?
The 2017 Volvo S90 comes in two options: the 250 horsepower, four-cylinder, turbocharged T5 and the 316 horsepower, supercharged T6 with AWD.
Both 2.0L engines come with an eight-speed automatic transmission with a manual shift mode.
In terms of dimensions, the sedan has an 115.8 in wheelbase and is 195.4 in long. It's 74.4 in high and 56.8 in wide with a passenger volume of 97 cu ft, trunk volume of 14 cu ft and a 3781 lb curb weight.
The torque is 258 lb-ft at 1500 rpm with 120 cu in, 1969 cc displacement.
The T6 will get from 0 to 60mph in about 5.6 seconds, while the T5 will take 6.3 seconds.
The car does particularly well on the 60-0 mph brake test where it took just 107 feet to come to a stop. In the quarter-mile test, the car takes 14.1 seconds to stop after traveling at 98.9 mph.
New additions on the way
A T8 plug-in hybrid version is on the way later this year. It will combine the T6 engine with an electric motor at the rear for a maximum output of 400 horsepower.
If you're looking for more trunk space, you can also wait for the wagon version which will be called the V90.
The drive
With its streamlined, elegant exterior, it'd be easy to be skeptical about the 2017 Volvo S90's performance.
Don't be. The S90's driving quality can be summed up pretty simply. Its balance of agility, comfort, and refinement are the factors that make this car stand out against other midsize luxury sedans.
The S90 handles well, despite its size, simply gliding over road imperfections.
In fact, this sedan drives smaller than it looks thanks to a well-weighted steering rack. Although it never wants for power around town, the 2017 Volvo S90 really comes into its own on the open road.
While Volvo promises a quiet ride, you'll occasionally hear it's snarl, reminding you of the four-cylinder engine.
The S90's cleverly spaced gearing shifts quickly and smoothly, making the most of the engine's powerband.
Luxury and comfort
What really makes this a smooth drive though is the 2017 Volvo S90 luxury and comfort.
The cabin is fitted with natural materials like matte wood and Nappa leather making every drive a pleasurable experience.
This combination of sophisticated styling, ride quality and interior appointments are what made Road Show's editors give the 2017 Volvo S90 an 8.3 overall rating. The car offers a smart and refined driving experience."
You'd just need to take one look at the interior yourself to see how right he is.
Value for money
While you'd expect this luxury vehicle to come with a hefty price tag, the 2017 Volvo S90 is priced quite fairly when compared to other manufacturer's luxury sedans.
What's more, it's more efficient than many others and is jam-packed with cutting-edge technology.
The S90 has an excellent value rating according to MotorTrend's IntelliChoice calculations. Their five-year cost of ownership calculation takes depreciation, insurance, fuel cost, financing, maintenance, repair costs and state fees into account.
Then, of course, there are all the 2017 Volvo S90's numerous standard safety features; because you can't put a price on peace of mind.
What are you waiting for?
Volvo's new 2017 Volvo S90 is always going to be impressive, but to truly experience Volvo class, it's best to find a dealer who understands your vehicle needs.
To experience this brilliance for yourself, call (877) 712-7409 or visit Paul Moak Volvo on Larson Street in Jackson and book a test drive today.