The 2017 Volvo S60 Near Oxford MS is more than a mid-size luxury sedan with a platform that offers drivers a variety of pricing and power options. The base model is a strong competitor to offerings from Lexus and Audi, while the S60 Cross Country offers an SUV-like ride height. The S60 offers the best in luxury and rear passenger legroom as well as a range of fuel-efficient, but powerful, engines. If a driver wants European luxury, styling, power, and safety, the 2017 Volvo S60 has a model for their tastes.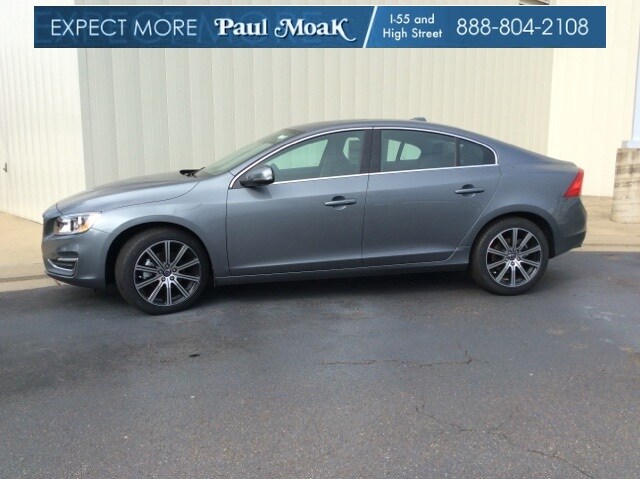 What We Think
While Volvo S60 dealers only have models with four-cylinder engines, drivers shouldn't think of these as under-powered economy cars. The family of turbo and turbo-supercharged engines ranges from the base model's 240hp to the beefy 362hp version found in the Polestar. The T6 falls somewhere in the middle at 302hp, and AWD models are slightly slower but make up for it in road grip. The optional Sport Package offers improved handling, and the Polestar and R-Design trims take it even further.
Our Favorites
The Volvo S60 offers something owners have been waiting for: rear passenger legroom. The longer wheelbase adds three inches to the S60's 2017 stats, and the model provides luxury features not found on last year's model. The Swedish predilection for protection extends out of the passenger compartment into the car's pedestrian detection system. If a driver doesn't react to someone crossing the road ahead of them, the car applies the brakes automatically.
The Inside and the Outside
Where the S60 is concerned, bigger is better. With the above-mentioned additional legroom, the car goes from mildly cramped to quite comfortable and allows rear seat passengers to fully appreciate the rest of the luxurious interior. The driver's seat, like that on all Volvos, is very supportive and comfortable, and instruments are logical to use and easy to read. The audio infotainment system offers clear, crisp sound throughout the entire range. While lengthening the S60's wheelbase could have been a failure, it looks quite handsome with its longer roofline and nicely proportioned doors.
Power plants
The 2017 S60 lineup has a simplified range of engines, and all three choices are based on the Drive-E 2.0L engine. The Cross Country, the Dynamic, and the Inscription models have a 240hp turbo version, while the R-Design has a supercharged version that puts out 302hp. The Polestar has a turbocharger only engine with a stout 362hp. All engines are mated to an eight-speed automatic transmission that includes a manual shift mode.
The S60 is back for 2017, and it continues Volvo's proud tradition of offering safe, comfortable, and luxurious vehicles. To see it in action, we invite you to visit Volvo Dealerships Near Oxford MS or call us to schedule an appointment.