Here at Paul Moak Volvo, we have a wide selection of new inventory available. Best of all, with our location here in Jackson, we're never too far from you there in Oxford, MS.
If you're looking for a car that's both stylish and safe, the 2017 Volvo S60 can be a great option.
This compact sedan combines a sleek and sporty look with Volvo's time-tested safety standards.
In fact, the Insurance Institute for Highway Safety (IIHS) named the Volvo S60 one of 2017's top safety picks for midsize luxury cars.
Starting to think that a Volvo S60 might be the right car for you? Here's a quick overview of everything you need to know.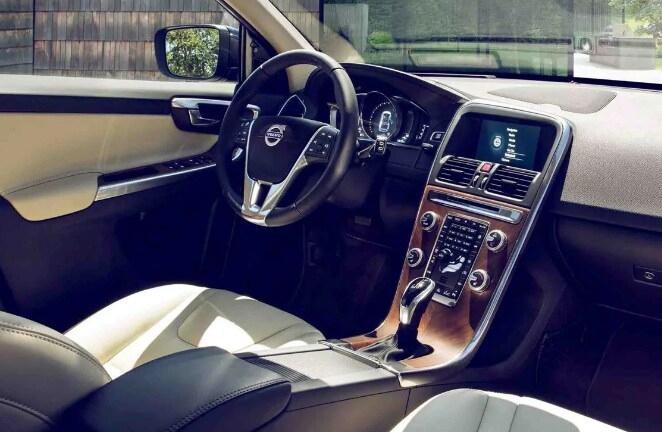 The 2017 Volvo S60 at a glance
Before we get into the details, let's look at a broad overview of the 2017 Volvo S60.
The Volvo S60 is a midsize luxury vehicle powered by a 2.0-liter 4-cylinder engine with 240 horsepower. The car's 8-speed, automatic transition makes it both easy and smooth to drive.
Not to mention, the S60 also features up to 295 lb. ft. of torque, making for seamless acceleration.
The compact size makes this car for driving and parking in crowded cities. That said, if you're interested in something a little bigger, you could also consider the Volvo S90.
Don't let this car's size fool you.
In addition to the powerful engine, the Volvo S60 is also available with all-wheel drive. This is a great feature if you're looking for a vehicle that can handle a variety of weather conditions.
Top-notch Safety Features
Of course, Volvos are well-known for their safety, and the Volvo S60 is no exception.
We already mentioned that the this Volvo was recognized as an IIHS 2017 top safety pick. Additionally, the 2017 Volvo S60 received a coveted 5-star safety rating from the National Highway Traffic Safety Administration (NHTSA).
There's a good reason for this praise.
The Volvo S60 didn't only receive the highest possible score on crash safety testing. This vehicle also received a superior rating on accident prevention and mitigation.
This is because the S60 is designed to protect you and your family from being in an accident in the first place.
High-end crash prevention technology like collision warning, pedestrian detection, lane assist, and automatic high beams are all designed to minimize driver errors. Other features like automatic emergency braking, blind spot detection, and rear obstacle detection are also available.
One of the most enjoyable features is the adaptive cruise control. With this function, the 2017 Volvo S60 will speed up or slow down to keep pace with the cars around you.
With this adaptability, you can finally have a true cruising experience for long highway drives.
That said, collisions do happen. If you are in an accident, the vehicle is also equipped with many features to protect its passengers.
The S60 has airbags in both the first and second rows. Additionally, it has occupancy sensors for airbags, so they will only deploy if a person of sufficient weight is in the seat.
A Bright Outlook
In addition to traditional safety features, the 2017 Volvo S60 also boasts unique and high-end headlights.
The S60 uses a combination of Dual Xenon and Active Bending Lights.
This feature allows the lights to self-adjust to maintain the optimal angle to the road you're driving on. The smooth technology is even able to account for changes caused by load weights, acceleration, and braking.
Competitive Fuel Economy
With rising gas prices, it's important to drive a vehicle that doesn't guzzle gasoline. Not to mention, a car that gets good gas mileage is better for the environment.
Luckily, fuel economy is another area where the 2017 Volvo S60 delivers. This Volvo's Drive-E powertrain can deliver up to 36 miles per gallon.
Additionally, the S60 has an ECO+ function. When activated, you can reduce fuel consumption by up to 5%.
With this kind of mileage, you'll be making fewer stops at the gas station. This will save both time and money.
High-tech Features
As technology becomes more advanced, we become more dependent on it. We want our computers, phones, televisions, and even our watches to all deliver the same high-tech experience.
The technology features of the 2017 Volvo S60 give it a luxury feel.
For example, consider the S60's sound system. The car features premium Harman Kardon speakers that deliver high-quality sound, amplification, and bass performance.
Additionally, there are 12 speakers placed throughout the car, allowing both the driver and rear passengers to have an enjoyable listening experience. That means no more blasting the radio up front just so your kids can hear in the back!
Of course, in addition to technology being high-quality, it's also important that all of your devices can sync seamlessly. This delivers a consistent experience.
That's why the 2017 Volvo S60 has popular music apps like Pandora built right into its user interface. This allows you to listen to your favorite music, without having to hook up your phone to the speakers.
Features Your Family Will Love
Another great aspect of the new 2017 Volvo is that it has plenty of family-friendly features.
For instance, the vehicle can be equipped with built-in WiFi. So, when you're family goes on a long drive, your kids can easily watch their favorite shows on their devices without eating up your data.
Additionally, the S60 features rear seat entertainment controls. So, instead of hearing calls from the back to turn up the volume, or change the station, the rear passengers will be able to make adjustments themselves.
The car even features built-in LCD screens with DVD players on the back of the headrests of the front-row seats. Paired with wireless headphones, your backseat passengers can have an awesome entertainment experience without disturbing anyone else in the car.
Ease and Convenience
That said, not all of the technological features in the 2017 Volvo S60 are designed for entertainment. There's also some great high-tech functional abilities.
For instance, Volvo's On Call app allows you to control a wide variety of the car's operations right from your smart phone.
In Mississippi, we know hot summers all too well. And there's nothing than getting into your car on a hot summer day, and feeling like you've just entered a sauna.
For those kinds of days, the climate control feature on the On Call app is ideal. You can get the air conditioning running before you get into the car, making it the perfect temperature when you're ready to drive.
Here's another scenario. You're running late for work or a doctor's appointment, but when you get in the car you realize the gas tank is close to empty.
With the On Call app, you can check the fuel level before you get into the car. This will help you plan ahead for if you need to stop for gas on the way.
Or, if you're anything like me, you've locked your keys in the car once or twice. With the help of the On Call app, you'll never have the problem again. Since this application lets you use your phone to lock or unlock the car, even forgetful people are covered.
Never Get Lost Again
It's great that our smartphones are equipped with the ability to provide turn-by-turn directions. When driving, however, it can sometimes be difficult to find a place to put your phone that allows you to both see the directions and focus on your driving.
It can get pretty frustrating to always have your phone taking up cup holder space. Even the mounts that place phones on the dashboard often fall down.
With the 2017 Volvo S60, you'll no longer have that problem. The built-in navigation system allows you to view turn-by-turn directions right on the vehicle's central display panel.
Additionally, the navigation system allows you to plan your trips ahead. You can look up a route on your phone ahead of time, and then send it to the vehicle's system.
And that's not even the best part.
Over the course of your lifetime, how many hours do you think you've spent circling around city blocks and looking for parking spots? Probably way too many.
The 2017 Volvo S60 combats that problem by highlighting parking spots in your area with the Find Parking feature. This means you can spend less time finding a spot for your car, and more time exploring your city.
A Luxury Experience
Overall, the 2017 Volvo S60 delivers a user-friendly, high-quality, and luxury experience.
The exterior is available in several striking and stylish colors, ranging from classics like blue and silver to a unique burnt orange. Furthermore, the interior is decked out in high-quality leather.
These features all work together to make the 2017 Volvo S60 a great choice for anyone looking for a car that is both safe and stylish.
If you're ready to purchase a new 2017 Volvo S60 Sedan in the Oxford, MS area, contact us. We'll put you in touch with a sales expert who can find the perfect vehicle and financing options for your situation.