Chances are you probably remember your dad's Volvo: boxy but sporty, roomy but quick, the sports car for the family man.
If you remember, it was the Swedish engineering of Volvo that made sure your dad didn't have to settle for those giant ugly boats of station wagons from the seventies. His dad's car was obsolete already.
And now your dad's Volvo is obsolete.
You may be a dad (or mom) yourself at this point; maybe you reached a career plateau from where there's nowhere to go but up, and whether or not you're bringing the spouse and kids along for the ride, you still like to enjoy Mississippi's natural beauty. You hunt, you fish, you blaze trails. It's what you do.
And who could blame you? Truth be told, we tend to be a little spoiled down here in the Deep South.
There are still 77 million acres of forests in the great state of Mississippi, and over 30 million acres of lakes. That's a lot of nature to explore!
But you can't do it in Dad's boxy Volvo. And SUVs? Well, they're great for off-road and city traveling both, but they're also big old-fashioned gas guzzlers.
You've done better for yourself, and now you deserve something better.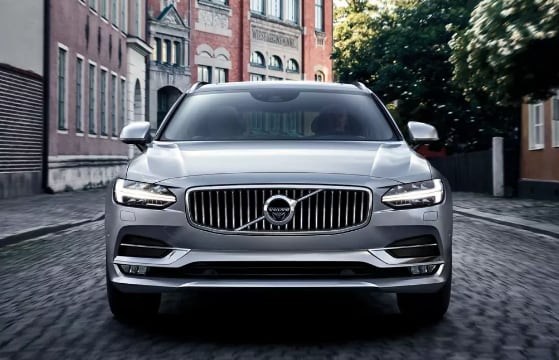 Volvo Redefines the Wagon Again: The 2017 Volvo V90
The 2017 Volvo V90 Cross Country station wagon, which redesigns the classic Volvo station wagon for the Post SUV era. Once again, another generation demands a smaller and sportier version of the station wagon... except this time they want to explore the countryside in it. Maybe even the whole country.
Here's why the 2017 Volvo V90 really is a game changer, not just for the station wagon industry, but for sport-utility vehicles and luxury sedans as well.
It Sits High
The standard Volvo wagon has six inches of clearance to the ground, but the V90 has a full 8.3 inches. That's nearly 50% more room for Mother Nature.
But this wagon isn't just lifted; there's also almost 1/8 of an inch of track extra on either side, with raised wheel arch extensions to accommodate them.
Why the arch extensions, you might ask? They're there to accommodate the new specialized All-Season Scorpio Verde tires specifically commissioned for this model by Pirelli. They're softer and rounder and perfect for off-road adventure. And if all that isn't enough, how about an available 2.3-inch body lift?
It Looks Sharp
The classic styling of the Volvo, is still there inside and out, replicating much of what people love about the brand's other groundbreaking new XC90 and S90 wagons, right down to the famous T-shaped "Thor's Hammer" headlights, sleek lines and upright tail lights.
It's the estate car version of the SUV, and the weekend getaway version of the luxury sedan. And the news only gets better on the inside...
It Feels Open
Volvo's noted for its lush, stylish interiors, and they didn't disappoint this time. The cabin design lets in lots of natural light, and it's only accented by a large panoramic sunroof that can let even more of the outside in.
The light wood or steel mesh accents on the inside make it even more inviting, as do the luxurious leather seating and completely redesigned dashboard control center, which functions almost entirely like your smartphone (customizable to both Apple and Android).
Heated seats and an optional chilled glove compartment for beverages complete the effect. You can even preheat the cabin before you enter. Air filtration systems keep some of that rural earthiness out of your nose while you enjoy the view.
It Moves Easy
You can get from 0 to 60 in just six seconds in the 2017 Volvo V90, but what's even more amazing are the four drive modes that allow you to adjust both your throttle and your stick, whether you're moving in Comfort, Eco, Dynamic or Off-Road mode. (There's even a fifth customizable option.)
You'll find an ease of driving unparalleled in any SUV, and although you probably won't have too much use for it on the Gulf Coast, it's got great drift on ice roads should you choose to journey up North.
The 2017 Volvo V90 has all wheel drive without any of the tight and blocky wheel maneuvering that usually entails. And again, if you head out of state, Hill Descent Control is a standard feature, as is Pilot Assist, which brings in all the best features of the driverless car and puts them in your control.
Then there's the City Safety feature, which despite its name, will brake when faced with sudden pedestrians in the city and also for deer and other woodland creatures who tend to bound out suddenly when you're in the country.
It Drinks Less
Outfitted with both a supercharger and a turbocharger, the 2017 Volvo V90 is remarkably fuel-efficient for an off-road vehicle.
It comes with a 2.0-liter 4-cylinder Drive-E T6, but you can also get the hybrid version, which can take you through any major city in Mississippi on a single charge -- 31 miles in diameter, to be exact.
Also, because it's so lightweight, it gets a cool 30 mpg out on the highway -- which few SUVs can match, even though the super quiet dual charger system feels like it has the power of a giant V8 engine.
It Makes Room
It's long for a Volvo, and smaller than most off-road vehicles, but you can still get 20 to 53 cubic inches of storage space in the 2017 Volvo v90.
And with a power hatchback and optional power cargo hold, loading up your getaway vehicle has never been easier, whether you're planning to stuff it with bags of groceries or a cooler full of largemouth bass.
Better still, since the Cross Country V90 sits higher off the ground than a normal sedan but lower than an SUV, you won't need an act of God or a professional basketball player to load up the top rack.
Remember how ugly the station wagon racks used to be? This one is completely unobtrusive, railed and curved with the natural shape of the vehicle.
And did we mention all the accessories Volvo has to offer? Dog gates, bike racks, kayak, canoe, bike and ski carriers, even a dirt cover for when you take a spin out in some really sloppy areas of the Magnolia State.
It Stays Safe
Volvo was a pioneer in car safety technology: seat belts, side airbags, child safety, stability control. And they haven't stopped there with the 2017 Volvo V90.
Front, side, and knee protection airbags, driveline traction control for icy roads, rear safety child seats, an alarm system, stolen vehicle tracking, and Volvo's famous On-Call in vehicle assistant service are all standard.
It Sounds Great
Your ears should travel in as much comfort as the rest of you.
You'll be glad to know that standard in every Cross Country V90 comes complete with a state-of-the-art Bowers & Wilkins sound system, including a small round unobtrusive tweeter right in the middle of your dash so that you feel surrounded by the sound and not hit in the face with it.
No less than 19 woofers, subwoofers and Kevlar cone tweeters are hidden in every angle of the car for the maximum sonic experience, not to mention a 1400 watt amp to blast it all out.
You'll be happy to know it's all controlled with good old-fashioned knobs. No screen swipes necessary!
It Gets Better
As if all that weren't enough already, the 2017 Volvo V90 also comes with two upgrades available. The Convenience package gives you a full panoramic 360-degree monitor around your vehicle, automated assisted parking, and headlight washers.
Upgrade even further to the Luxury package and you'll find those heated seats also have massage capability, which goes great with the four-zone climate control, sun curtains, leather dashboard, and extra outside guard protection -- for when you want to tear up the country, not your car.
The 2017 Volvo V90 Is Clearly a Next-Level Wagon
The 2017 Volvo is the change wagons needed, again -- not just in station wagon technology and off-road vehicle design, it also represents a rethinking of the luxury sedan.
Whatever you're getting into in the country or the city, you won't have any trouble maneuvering around with one or more passengers in complete comfort. It's easy on the eyes, easy on your fuel budget, easy on the earth, and easy on its own underside.
But what's most important about this breakthrough and is it brings elegance to the station wagon, fuel efficiency to sports utility, and luxury to both.
Whether you're headed to the casinos of Biloxi, towing your boat to the fishing rodeo -- how does 3500 lb of towing capacity sound? -- or just picking the kids up from school in the afternoon, the 2017 Volvo V90 Cross Country can handle all of it and more.
Stop by a Volvo dealers near Hattiesburg, MS, or just call us at (877) 712-7409 and find out just how easy and affordable it is to have it all. Be ready for the new post-SUV era with a safe, eco-friendly, elegant, durable, Volvo next-generation sedan!