For drivers looking for the 2018 Volvo V90 near Oxford MS there's no better time to get to know this perennial favorite. Consistently ranked as one of the best crossover wagons, even Volvo enthusiasts may be surprised at how much the V90 has to offer.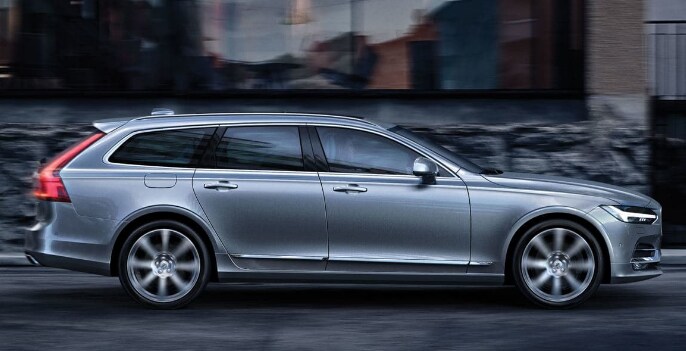 Luxury SUV crossovers have become the vehicle of choice for many discerning drivers. With the storage space and functionality of an SUV combined with the luxury and drivability of a fine automobile, these wagons offer the best of both worlds.
There's no doubt that in terms of performance, luxury, and features the V90 is redefining the wagon. And while to 2017 V90 defined best there's a lot to like about the new 2018 models.
Thinking about a 2018 Volvo V90 near Oxford MS? Here's why this car is a perfect fit:
1. All Wheel Drive for Every Driving Condition
One of the best benefits of a 2018 Volvo V90 Near Oxford MS is that this luxury machine can handle any type of situation Mother Nature can throw at us. With a wet season that lasts over 8 months all of us know that the right car can make a huge difference.
Sand, mud, wet roads, and muggy heat are no match for the V90. Experts note that AWD like that offered in the V90 is the ultimate type of car.
The answer is that power is evenly distributed for the best traction. When slippage is detected in one tire, power is diverted to the other axle to get better traction control.
Too many locals believe that great performance means sacrificing luxury. But with the V90 you can handle the toughest roads with a smooth and safe ride all the way.
Nothing is better for the wet roads and variable conditions of Oxford MS.
2. Power in Beauty
For anyone who sees the elegant lines of a V90 and things there can't be much power to such beauty, they are definitely mistaken. How does 316 horsepower sound?
With that much power, you will be turning heads down the highway and that's not the only reason. This engine is also supercharged and turbocharged with a 2.0-liter 4-cylinder engine.
This balance between cylinders, horsepower, and turbo means you get optimal performance and gas mileage with a ride that can be smooth and luxurious on the road.
A 2018 Volvo V90 Near Oxford MS has a great combination of power and beauty lurking under the hood that you can feel with every press of the gas pedal.
3. Getting Off Road
We know what you're thinking: With such a pretty car does anyone even want to get it dirty?
But driving a 2018 Volvo V90 near Oxford MS means you have 19-inch wheels carrying around all that luxury. Forget the old muddy pickup truck when it's time to take a drive to the river or head over to a lake for fishing.
You'll be headed there in style with these 19-inch wheels. They provide plenty of clearance for some fierce off-road adventures.
Combines with the horses and turbo and you'll find that the V90 stays true to its roots as a Sports Utility Vehicle (SUV). Sure, the V90 cleans up real well, but this car also can have a lot of fun off the beaten path.
4. Get There Safe
It doesn't matter if you are headed on a fishing trip or to a business meeting, this crossover wagon will get you there safe. You may have already heard the major safety pledge that Volvo has made in terms of keeping our drivers safe.
By 2020 no one will be killed while driving a Volvo car or SUV. The reason Volvo can make such a huge claim is because of the safety features that are embedded into a V90.
Driving a 2018 Volvo V90 Near Oxford MS means you will get there safe due to the Pilot Assist and City Safety features that come standard.
Pilot Assist uses adaptive cruise control to sense if there is a car in front of you and makes adjustments. The technology operates up to 80 mph.
City Safety provides protection from the auto going out into traffic. The technology can apply the brakes so you won't be hit in a collision.
Taking into account animals on the road, and other hazards, the new Volvo technology is a great way to protect you and your loved ones behind the wheel.
5. Save Money On Every Mile
Nothing makes us happier than combining luxury and cost savings into one great offer. Driving a 2018 Volvo V90 near Oxford MS can help you make an impression on the highway while not making a dent in your savings account.
With gas prices always set to spiking there is a certain peace of mind in getting the best gas mileage for your vehicle. Owning a crossover wagon or SUV always used to mean having to dig down deep in your wallet every time you passed a gas pump.
But the engineering of Volvo doesn't just pack a great amount of power in a 4-cylinder machine-- the design is great for your wallet as well as the environment.
You'll get a great 30 miles per gallon on the highway and 22 in the city and driving around town. Think of all you'll save on every fuel up and you may wonder why you didn't invest in luxury sooner.
6. The Best Interior Comfort
If you want to discover the one drawback of driving a 2018 Volvo V90 near Oxford MS it's simple: You may hate to head into the house when you get home.
From standard luxuries to optional accessories, Volvo has outdone itself with the interior comfort of the V90. We all spend so much time in our cars-- why not drive with the best comfort controls only a touch away?
There are a number of leather options for the 2018 Volvo V90 near Oxford MS but the heated seats can get you through those cool mornings where you hate to get out of bed. Plus, with the 2-zone environmental cooling system as standard, you and your companion can ride in the perfect temperature at all times.
And if you think that leather steering wheel could get a little chilly in the mornings, think again. A heated steering wheel comes standard as well.
For the families or business people on the go, you can invest in a 4-zone environmental cooling system to keep every passenger happy.
One of our favorite options is the backrest massage on the front seat. Say goodbye to frustrating traffic!
You may not mind a few extra minutes on the road when there a massage in store for you at the press of a button.
7. Controls at the Touch of a Fingertip
All of us have gotten used to pressing a fingertip against a display and having command of the latest technology. We've gotten used to the ease of operating our smart phones and there is no reason we shouldn't have the same features in our luxury cars.
Your 2018 Volvo V90 near Oxford MS has a 9-inch digital touch panel control as standard though. You can navigate the options and accessories-- including your stereo system-- with ease.
As Volvo is committed to safety the digital controls reflect this engineering and design. With easy functionality, you won't need to be distracted for a moment too long when adjusting the interior environment of your V90.
8. Space and More Space
Don't forget the crossover part of the Volvo V90. This is a vehicle that also offers the full benefits of a spacious interior.
For serious weekenders with play in mind, and business owners who need to move inventory, you'll find the V90 has all the space you need. There is a serious cargo capacity to go along with the easy drive a V90 offers.
Pack the family up for a trip, or load in the materials for your next conference. Either way, you'll find this crossover wagon has the space you need.
9. All This and Beauty Too
With all the safety, performance, and utility features that a V90 offers it can be easy to lose sight of the prize: This crossover has plenty of beauty to go along with some serious brains.
Don't let the safety advancements and interior comfort fool you. The Swedish engineering responsible for the ultimate in comfort and safety have also built this car with exterior design in mind.
Clean lines and great style make the V90 a head turner too.
Find Your 2018 Volvo V90 Near Oxford MS
Once you realize all the performance features and possibilities of a 2018 Volvo V90 near Oxford MS the only question is why wait? You deserve the best in luxury.
Paul Moak Volvo is the dealer of choice in Oxford MS. The reasons are simple:
We offer outstanding service, price, and customer satisfaction. Plus, our team of financing experts make it as easy as possible for you to afford the car that you really need.
What better can to drive than a 2018 Volvo V90 near Oxford MS?
Come

search our new inventory today

and receive a $50 reward card for your test drive.