Are you looking for a 2018 Volvo S90 near Oxford, MS? There are many reasons why your next vehicle should be a Volvo -- safety, efficiency, reliability, and design just to name a few.
Volvo prides itself on producing vehicles that are stylish both inside and out, with safety and reliability features that make them perfect for families.
Many classic features that make Volvo one of the top-selling manufacturers in the business will be seen when the 2018 Volvo S90 rolls out. But so will some notable additions.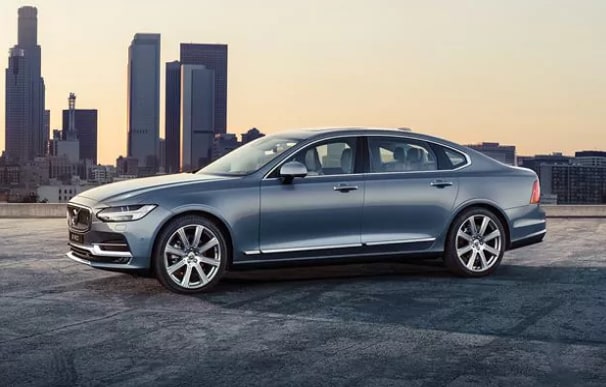 Let's check it out!
What Makes Volvo Different?
Let's first take a quick look at why the Volvo brand has become a trusted name in family safety and reliability.
Volvo attributes it's notably high safety ranking on knowledge and development. Volvo designs each new vehicle using research and data from previous models. Using information from real-life collisions, Volvo coins their safety development process as the Circle of Life.
Some of Volvo's newest safety features include IntelliSafe -- an array of technologies that can actually help predict and prevent collisions. Some of these technological advances include an autopilot option, adaptive cruise control and lane keeping aids.
The new 2018 Volvo S90 will offer many of these safety features, plus a sleek, luxurious look and comfort.
This model follows the already well-received 2016 addition. Volvo's sedans have created a competitively priced mid-size vehicle with an electric motor -- something unique to consumers.
Introducing the 2018 Volvo S90
Design
Both the interior and exterior of the 2018 Volvo S90 are predicted to be sleek and beautiful, while still showcasing the infamous Volvo design.
Interior
Since most of a car owner's time is spent inside the vehicle, it's important that it's aesthetically pleasing, comfortable and functional -- the 2018 Volvo S90 does not disappoint.
Heated seats and steering wheel trim made from the finest leather, the S90 guarantees you'll be riding in comfort. The wheel also comes equipped with controls for multiple vehicle functions.
The 2018 Volvo S90 doesn't skimp on technology features. A 7-inch touchscreen comes equipped with navigation, a rearview camera, blind spot monitoring, and parking sensors. Other high-tech features include Wi-Fi, USB port, keyless entry, and Bluetooth capabilities.
And of course, no Volvo would be complete without safety features including collision warning, traction control, and air bags.
Exterior
The exterior of the 2018 Volvo S90 is just as impressive as the inside. Some notable differences to the S90's design include an aluminum chassis and front fascia made of chromium.
The updated chassis material will improve the efficiency of the car's engine. This design is being described as stylish and attractive.
If you like the look of LED lights, you'll love the modern LED bulbs being added to the Volvo's head and rear lights. An air intake and fog lamps are housed in the front bumper.
No car is complete without a beautiful set of wheels. The 2018 Volvo S90's standard equipment package will come with 17-inch alloy wheels. This is a sedan that would suit both families and young singles alike.
Trim
Volvo consumers are accustomed to a variety of trim levels when selecting their vehicle and the S90 will offer the same familiar options.
There are 4 trim options available:
· T5 Base
· T6 Base
· T5 Platinum
· T6 Platinum
Additional Upgrade Choices
No Volvo would be complete without some upgrade choices. Those will be found in not only the engine but also tires and overall body aesthetics.
If the 17-inch alloy wheels don't create the look you're after, both 18-inch and 19-inch upgrades are available.
Want a sportier look? A lowered chassis design featuring a 4-C sports suspension can create this for you.
What's Under the Hood?
The look of the new 2018 Volvo S90 isn't the only thing car buyers want to know. What's under the hood of the car is a great prediction of performance.
There will be two engine options for Volvo's 2018 sedan. The engine will depend on the trim package chosen. All Volvo's will be equipped with electric engines, as the company strives to improve fuel economy.
Base Trim Engine Design
The base models of the 2018 luxury-sedan will house a 240 horsepower engine with a torque of 350 Nm. With front-wheel drive and 8-speed automatic transmission, drivers will experience a smooth and powerful ride.
Is energy efficiency important to you? It's predicted that the base model's average consumption will be about 37 MPG for city street driving.
Additional Engine Options
Consumers may also purchase the 2018 Volvo with a 2.0 L 4 cylinder Drive E Turbo T6 engine that delivers 300 horsepower and a torque rating of 325 lb-ft. The T6 engine has a predicted fuel economy rating of 28 MPG.
The T6 engine model for the 2018 S90 differs from the base trim variation in a few other ways. This upgraded engine is all-wheel drive vs. the front-wheel drive base model.
Do you prefer a manual transmission over automatic? The T6 offers the option for an upgrade to manual.
Improved Technology
The 2018 S90 comes with some pretty impressive technological features. Let's explore them a little more.
On Call App
This amazing feature gives 'hands-free' a new meaning. Volvo's On Call App allows you to control countless features remotely. Not only can you check your fuel levels, lock and unlock your car, but also start the engine -- all right at your fingertips.
Other perks include activating the cars cooling and heating systems and receiving maintenance updates.
Volvo technology wouldn't be complete without a safety feature. The On Call App provides roadside assistance, theft alert, and emergency support. The app is available for both android and apple devices.
The Cloud
Volvo's Connected Safety pilot program connects your vehicle to the Cloud, creating a safer driving experience.
Features include Slippery Road Alert technology that helps detect icy roads. Via the Cloud, this technology alerts nearby drivers of worsening road conditions, as well as road authorities.
Want more safety on the road? A Hazard Light Warning function warns drivers if another vehicle nearby has its hazards lights on. This prepares you for potential slowdowns or stops, keeping all drivers safe.
Coming Soon: Auto-Pilot Technology
Ever get tired while driving? Are you distracted or just need to take your hands off the wheel for a minute? Well with Volvo's Auto-Pilot self-driving technology, you can rest without compromising safety.
These autonomous driving features offer owners unsupervised driving options. The vehicle is in control of accelerating, braking and steering. All done without driver involvement, though drivers should always be aware of their surroundings.
Autonomous driving is expected to be fully implemented by the year 2021. This hands-free option will assist drivers with parking, time-management during their commute, fuel efficiency and lower insurance premiums.
Pump Up the Jams
If you love cruising to music, then the S90's 12 high-fidelity speakers will make you dance. Your audio experience will be taken to the next level with a state-of-the-art amplification system and rich bass performance.
The Volvo S90 offers premium sound performance by Harman Kardon. These unique speakers offer a 360-degree audio experience. Sound is customizable to each Volvo model and delivers dynamic and balanced acoustics.
Availability
If you're wondering when you can get your hands on the 2018 Volvo S90, this stylish sedan is expected to hit the market in March of 2018.
Competition
With the New Year comes the release of other manufacturer sedans -- so which ones will be the Volvo S90's biggest competition?
Audi 6
Both the S90 and the Audi 6 will offer drivers numerous choices for interior and exterior design. Both sedans are equipped with technology features, creating an enjoyable, easy ride.
Volvo is known for its safety and reliability, and that will out trump the Audi 6 as well. The S90's City Safety system will help prevent collisions at speeds below 31 mph.
Volvo's sedan will offer a smoother ride in a more unassuming aesthetic package.
Mercedes-Benz E-Class
As far as fuel efficiency goes, the Volvo S90 out ranks the Mercedes. The E-Class is predicted to give consumers only 21 MPG city driving and 27 MPG highway driving.
Many specs of these two sedans are similar, but the Volvo offers a slightly smaller, more sleek design.
Volvo Repair Costs and Warranties
Most car owners know that the initial price tag is not the only price to be concerned with. Every vehicle will need routine maintenance at one point or another.
Another awesome feature of this model is how relatively inexpensive repair and maintenance costs run -- averaging between $400 - $500 per year. This is an amazing saving considering the average cost to maintain a vehicle is $1,200 annually.
New Volvo's offer a 4 year/50,000 mile basic warranty. The same warranty is offered for the vehicle's powertrain.
Let Us Find Your Perfect Volvo
When it comes to safety and class, the 2018 Volvo S90 stands above the rest. The upgraded design, numerous technology features, and overall reliability make it one of the best family, luxury sedans to be had in the new year.
Are you looking to purchase a Volvo in the Mississippi area but need more information?
Here at Paul Moak Volvo Cars, we provide impeccable service, both in our sales and service departments. With financing options available and an experienced team, we'll help you find a new or used car that's right for you.